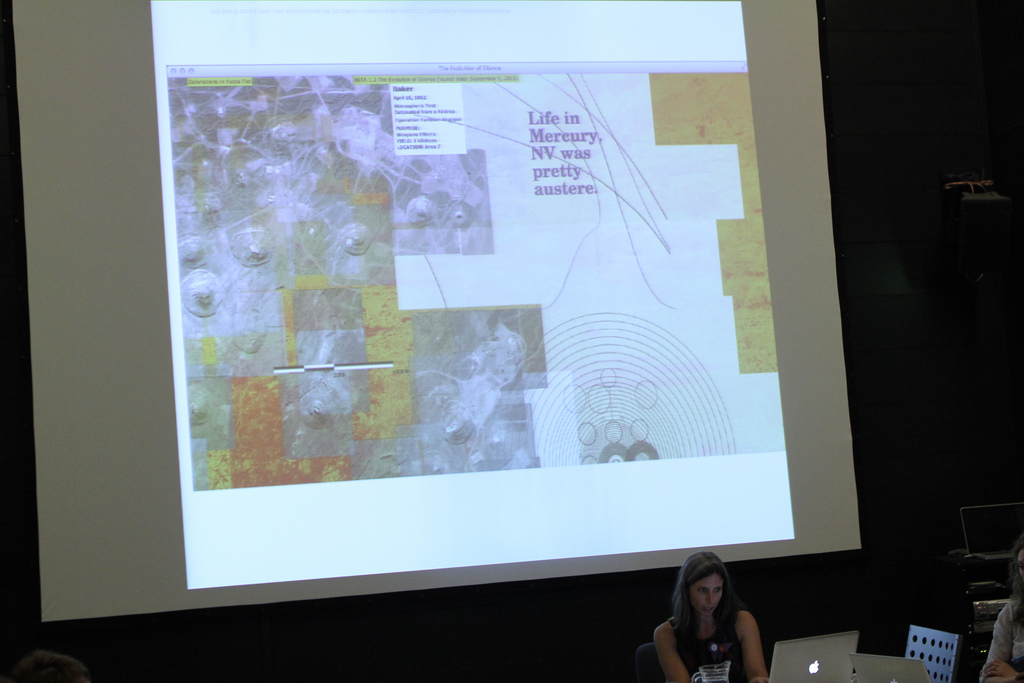 I traveled to England on September 2 to participate in the conference 'Praxis and Poetics: Research Through Design.' The conference was held at the BALTIC Centre for Contemporary Art in Gateshead, UK, just over the Millennium Bridge and across the river from Newcastle-upon-Tyne, a beautiful university city with a mix of old and new architecture, which I was able to explore one afternoon on foot. I am so happy that I was able to attend this event and thrilled to present and exhibit 'The Evolution of Silence' in its newly re-coded format. It was a celebratory week for me and wonderful to share the archive beyond the U.S.
Here is a post from Vicky Teinaki who blogged about the conference:
"Rachele Riley went beyond whether the truth is out there to the history we forget in 'The Evolution of Silence.' Her work is investigating the decades of nuclear testing that went on in the Nevada desert, and through it the changing opinions of nuclear testing…"
Read the full post here.
Link to 'The Evolution of Silence.'

Thank you to The University of the Arts in Philadelphia and to my family for travel support, to Danniel Gaidula for revamping the site, and to everyone who generously contributed to my project via USA Projects. The archive looked amazing on the high resolution monitor and received incredible response. There are several conversation threads that linger in my mind; I am now finding time to probe them. Several people expressed an interest in contributing to the archive through its (soon-to-be-developed) participatory layer. It was inspiring to meet designers (mainly from Asia, Europe, and Australia) who are engaged in diverse research and are investigating new modes of delivery. It was an awe-tastic week.